SMALLRIG QR Cheese Handle 1649
SMALLRIG QR Cheese Handle 1649
SmallRig QR Cheese Handle 1649 is a quick release top handle that attaches and detaches with a wingnut screw. Slide it onto the Safety Rail and tighten down the wingnut, you can lock it in place. Except for sliding it left and right on the Rail to balance the camera's center of gravity, you can also slide forward and backward to find the balance position of your rig. The forward facing mounting hole is specially designed for attaching 15mm single rods, so that you can attach your focus motors, etc. The sideways 15mm rod clamp allows for attachment of EVF mount or microphone shock mount, etc. An integrated shoe mount on the top for attaching on camera lights, microphone shock mounts, etc. Another integrated shoe mount at the end of the hadle for attaching EVF arms, etc. 1/4''-20 and 3/8''-16 holes on grip area for attaching additional accessories, meanwhile, the exquisitely grooved finish with an array of mounting points offers you a comfort grip. You can attach SmallRig 15mm rod clamp 1078 or 942 to the handle with the front 1/4'' mounting holes. The handle is ideal for low-mode shooting and easy transport of your camera.
Material: aluminum alloy
Net Weight: 249g
Includes:
1x NATO clamp adapter
1x handle grip
3x M5 screw
1x hex spanner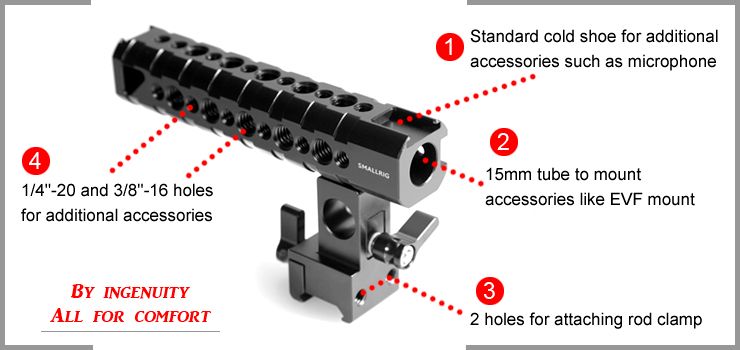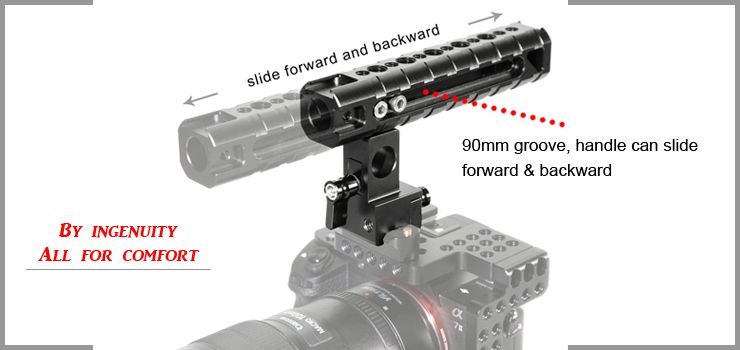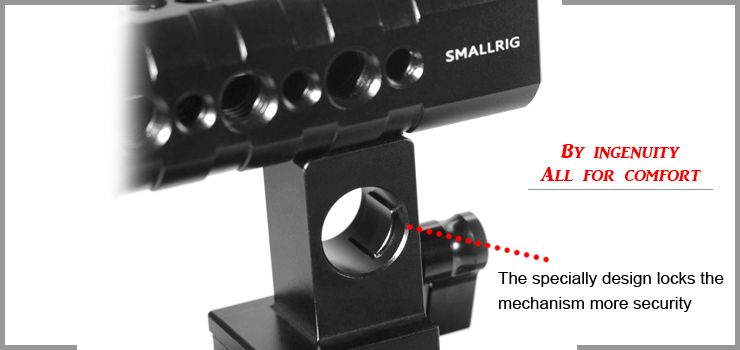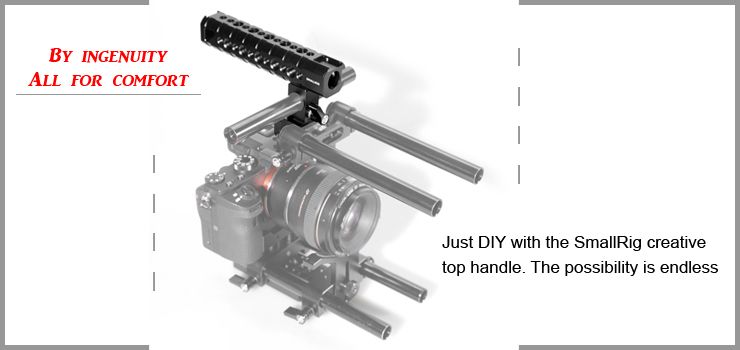 Write Review
Awesome Handle!

Posted by Steven on 1st Dec 2016

Perfect handle that you can easily pop on and off with a NATO rail. Love the ability to adjust the handle forward and back to balance the rig's load as it changes with accessories and lenses. Two cold shoes is a great feature for a shotgun and then maybe a zoom on the rear. Really happy with this!

Shoe mount gets dented too easily

Posted by Unknown on 16th Jul 2016

When I brought it out to use, I found that the one of the teeth of the shoe mount had been dented and a crack was appearing at the joint. It rendered the shoe mount unusable, and possibly even dangerous, as the cracked joint was actually quite sharp. I had to gaffer it up. Was expecting more from this as it's one of the more expensive handles on the site.

perfect,beautiful handle

Posted by Joy on 11th Mar 2016

Perfect on sony A7II cage!

The best top handle

Posted by Chris Allen on 3rd Mar 2016

You'll be surprised how comfy this is in the hand... perfect on my BMPCC ViewFactor cage!